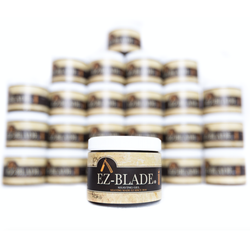 12 pcs / 6 oz Shaving Gel
Bulk Price
Our shaving gel is more than just your average gel. EZ Blade shaving gel contains a pre-shave oil, making it far more hydrating, providing better razor protection than other shave gels on the market. Only a small amount of our shave gel is needed this means our bottles last longer! The EZ Blade Shaving Gel can be used with the razor of your choice, including single blades and multi blades. Give yourself or your customers a premium shave with this hydrating, protecting gel.
Features

•Shave Oil Based •Waterless Shave •Allows The Blade To Glide
•Clear Non Foam Gel •Opens Pores •Relaxes facial •Softens Beard

Directions for Use :
Apply a small amount of shaving gel to your finger tips. Rub in circular motion. Lift the hair in the area in need of a shave. No water is needed but can be used
 Join Our Subscription Service It's Convenient!
Save time and money. Take advantage of our convenient risk free subscription service. We will deliver your products to your front door on a monthly or bi monthly basis. No more running out of product again. Have your products on time and when you need them. Our subscription provides you with total control by tailoring to the needs of each individual customer. Allowing you to change the quantity of purchased or the amount of months you want your products delivered. You also have the choice to end your subscription anytime you want.